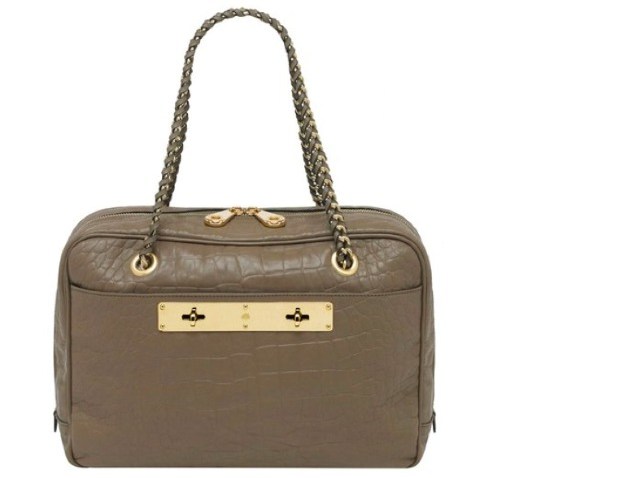 On the eve of its 40th birthday, and in the midst of a global recession, British luxury brand Mulberry managed the unthinkable by quadrupling its profits and increasing its revenue by 69 percent in the last year, thanks to an unlikely hit in the $1,200 Alexa handbag. Now, the company is hoping lightning will strike twice with the release of its new bag, the Carter in three shapes -- mini, camera and large double-strap -- in hopes of maintaining its profitable momentum.
To wit: The Alexa comes in a range of sizes and prices, selling out across the board, from the $800 mini versions, to the over-sized bags that range from $1,450 in regular leathers to $3,750 for exotic skins like ostrich and horse hair. The celeb-beloved piece, named for British TV personality and fashion darling Alexa Chung, was the brainchild of creative director Emma Hill, who, according to the Guardian, presciently felt the appeal of Chung carrying a men's Mulberry briefcase and leveraged it into it-girl gold.
Now, with the Carter, a new style emerges—similarly boxy, classic and clean-lined, in the form of a zip-top camera bag with a chain strap. What's more, bold-face names like Emma Watson, Kate Bosworth and Kirsten Dunst have already been spotted prancing around town with the Carter in tow.
If Mulberry, will Hill at the helm, has tapped into its sweet spot to gross $28 million in 2010, then it is certainly banking on the Carter to carry it through an international expansion plan that includes a new Soho flagship, WWD reports. In NYC alone, sales at Mulberry's existing stores were up 120 percent last year, which, coupled with 38 percent growth across the world in the first 10 weeks of 2011, has the brand looking at new stores on the West Coast, as well as in Europe and Asia.
The Carter bumps up the price range to $1,000-$1,550 a pop, but for a growing number of clamoring shoppers (not to mention Mulberry's projections), the price might be right.