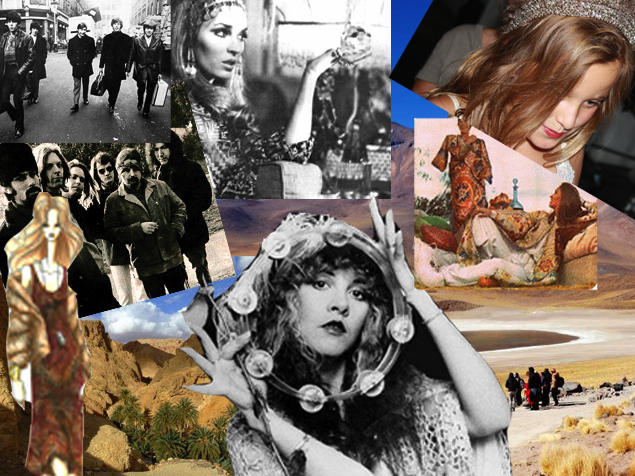 Now in its third year of business, New York-based label Haute Hippie has become a definitive source of cool, vintage-inspired style for boho babes (with a penchant for feathers and fringe).
Turns out designer Trish Wescoat Pound's inspiration sources are as groovy as her gear. Classic rock 'n' rollers like Stevie Nicks, the Rolling Stones and the Grateful Dead are all fueling her imagination this season, along with inspired desert imagery from Morocco and Chile.
Rolling Stones: "Music is always an inspiration for me. I have a constant play list going. The Rolling Stones' 'Ruby Tuesday' is about holding on to your dreams and that message was really important to the HH girl this season ... 'lose your dreams and you will lose your mind'…."
The Grateful Dead: "I love the Grateful Dead and 'Truckin' was a real inspiration at the end of the Fall 2011 collection. 'What a long strange trip it's been' completed the pilgrimage our HH muse had taken through the deserts of her mind."
Stevie Nicks: "She really embodies the spirit of Haute Hippie. She is a free-spirit who embraces her femininity and still always remains a strong force."
Talitha Getty: "Talitha really captured that 'Gypset' style and was such an original! You could see all the influences of global cultures and luxury blended together in her look – she really inspires the collections we make every season."
Patti Boyd: "She inspired Eric Clapton and George Harrison! Patti was iconic as a rock n'roll muse and her personal style was cool and sophisticated at once."
Illustration of Beaded Flapper Dress with Sweater: "I love to layer and mix unexpected pieces together. This is a flapper dress in the secret garden print we did for Fall 2011 and we layered it with a Mongolian sweater."
The Atacama Desert: "This was part of the journey the HH muse stopped on for Fall 2011. The natural sand formations and dunes inspired the draping and flowing chiffon dresses and long skirts we paired with blanket ponchos, chunky cardigans and fur."
The Atlas Mountains of Morocco: "The colors of Morocco really inspired the palette for Fall: peacock, emerald green, spruce and midnight blues; and, of course, nudes and fawn taken from the colors of the earth."
My Daughter Jillian: "Seeing things through the eyes of a child and their curiosity is amazing. Jillian is so creative and has such great sense of personal expression and an eye for detail that I my greatest source of inspiration is her observation of the world."