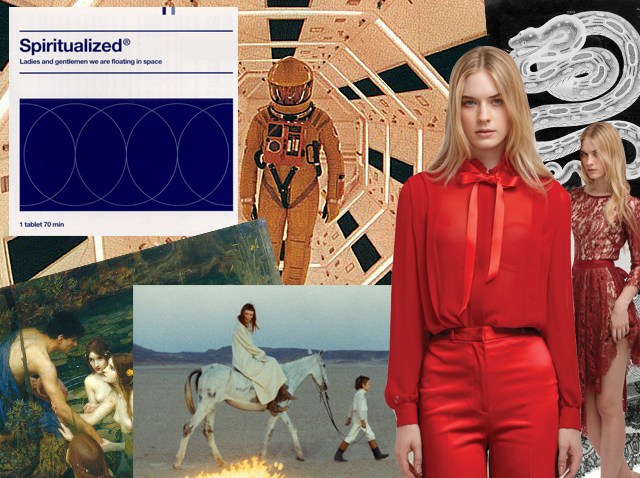 Design duo Susien Chong and Nic Briand of cult favorite Aussie label, Lover, have built an empire out of flirty hot pants and perfectly-cut sundresses. A favorite among It-girls like Alexa Chung and Kirsten Dunst, we can always count on Lover to churn out effortlessly hip separates that we can wear year-round. Though the mood of their collections is pretty young thing-focused, their mood board inspiration is adult and intellectual by contrast, with references to ancient Chinese myth, Stanley Kubrick and Warhol's Factory films.
1. Nico: "We found a rare french film called The Inner Scar which stars Nico from the Velvet Underground. The imagery is amazing."

2. White Snake: "Our latest collection was inspired by the Chinese myth 'The White Serpent.' We didn't want this influence to be literal with snakeskin print all over the place. We wanted it to be about a seductive, forbidden beauty."

3. Delicate lace: "Lover has always been well known for its use of lace. We started using it in the first collection we ever did, and it's continued on from there. For this collection we wanted to push the placement and use of lace within our pieces."

4. Hylas & The Nymph: "John William Waterhouse has been a constant source of inspiration to Lover over the last 10 years. There is something very beautiful, mystical and Patti Smith about his paintings. What we love about this painting is that it looks like something innocent and serene, until you realize that they are trying to lure Hylas to his death."

5. 2001: "We finally sat down and watched this film from beginning to end, and without a doubt it was life-changing."

6. Spiritualized: "This album has been on high rotation.The gospel/feedback/space-rock feeling of the album is such a great juxtaposition of sounds that it seems uplifting and dark at the same time. It provided the soundtrack for this collection about dark seductive beauty."