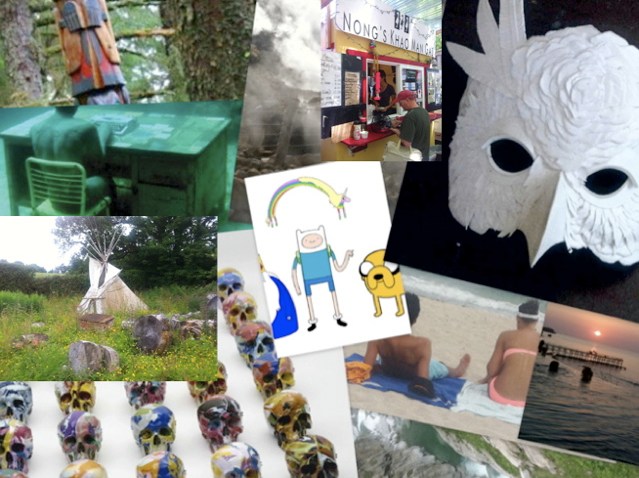 For statement-making garb that's also surprisingly wearable, we depend on Jen Kao's fun, printed pieces and flattering silhouettes. Naturally, we were eager to see where the designer was finding her summer inspirations, and Kao didn't disappoint.
Finding inspiration in hand-painted skulls, mesmerizing paper-cut masks and colorful totem poles, the designer's mood board would make anyone yearn for the adventures of a remote mountain town.
Adventure Time: I've recently become re-hooked on this series. It's one of those cartoons that seems built for adults and kids that are too smart for their own good. I watch it in the morning and fall asleep to it in the background. Always good to have something that inspires you to take life a little less seriously.

Bali Infinity Pool: "My personal mirage photo. I took this photo of the infinity pool at our friend's paradise of a resort in Bali. In times of stress, this is a total motivation to push through and reach a time when I can return."

Eddie Vedder Ukelele Songs: "At his concert in Portland, he said: 'It's one of those instruments that you just can't get an evil sound out of.' I loved that. Even that guttural voice can't obscure that optimism and light heart of the uke. I am always taken by the unexpected."

Enameled Skulls: "Something of rigid order embellished by something completely chaotic and free."

Hakone: "The smoke from the volcanos in Hakone created this magical haze."
Islamorada: "Just a good ol' beach in Florida. I love to see the pops of acidic colors that beachgoers bring to the scenery, especially when they're derivatives of the natural palette that already exists."

Paper-Cut-Project: "These are two amazing ladies turning paper into fashion, truly. I have a longtime affinity for changing people's perspective about 'craft.'"

Nong's Khao Man Gai: "Portland had me for having the largest population of strippers in the United States, and the best food stand you will ever know. Nong's Khao Man Gai serves one thing and one thing only: steamed chicken over sticky coconut rice with a sauce from heaven with pickled cabbage chicken broth on the side. I like to remember that 'simple is good.'"

Sitka Totem Pole: "Really into totem poles right now, particularly after seeing so many of the Inuit Indian kind this summer in Alaska."

Switzerland: "Serious water through the cracks. The magnitude of the nature's strength is always so compelling."

Teepee: "A teepee in the midst of the most amazing garden at the most amazing home in Alnwick. One of those things that is not like the others, yet seems right at home."