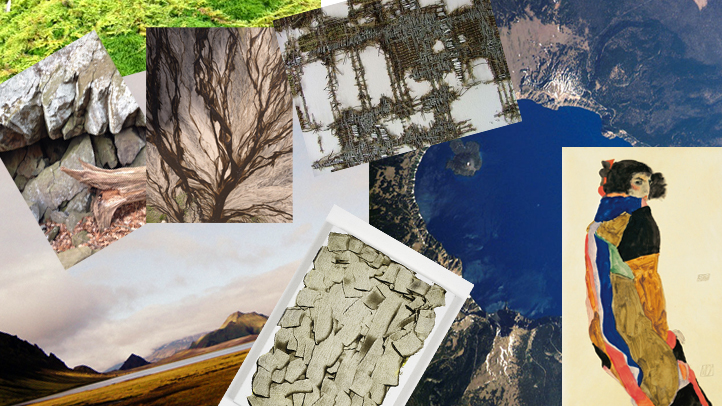 We first featured Erin Considine's organic, hand-woven jewelry creations last year, when we stumbled across her collection at a local Williamsburg boutique.
Since then, the designer has become an important name in the design world, with her work increasingly favored by stylish editors and "It" gals alike. Unsurprisingly, her mood board inspiration images are precisely as rich and compelling as her fanciful designs.
Egon Schiele Painting: "Love his colors and brush strokes."

Elena Herzog's Installations: "Her line-making with staples and remnants of fabric."

Iceland: "My number one place to visit next."

Moss: "I've been learning about moss, lichens and mushrooms this year and really appreciating the texture, structure and infinite tiny world that they contain. They're another natural dye source I'm exploring."

Aerial Photography: "The forms I carved and fabricated in the current collection are inspired by natural and man-made formations seen from above, like alluvial fans, craters and mines."

Stuart Elliot Paintings: "Texture."

New England Hiking: "Becoming more and more essential!"