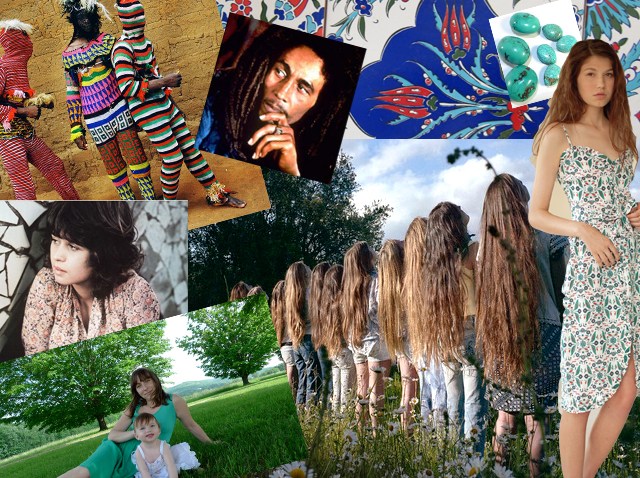 Wendy Mullin -- she of Manhattan-based favorite, Bulit by Wendy -- began peddling her wares while working in some of New York City's most famous record stores, setting up garment racks astride the CDs and stacks of vinyl.
That her summer mood board features reggae rock-god Bob Marley drives home Mullin's musical roots, while inspiring images by the likes of Irina Werning and Phyllis Galembo show off her artistic tastes. If Mullin's June collage is anything to go by, her summer season will be chockablock with color, crooning vocals and funky printed sundresses.
Maria Schneider from "The Passenger": "I love her character's carefree spirit and casual, sexy style. Her dress print inspired my Marbella print for my spring collection."
'Cross River, Nigeria' by Phyllis Galembo: "I love the colors and textures of these African costumes."

'Mi Pelo Largo Querido,' Irina Werning: "I recently discovered her series of long hair photos. She captures femininity in a unique way; very earthy and powerful, yet sweet. Just my BBW muse."

Bob Marley: "I always love reggae in the summer. It's the best soundtrack for a mellow hang."
Turkish Tile: "Tiles in my kitchen inspired my Marrakesh print."

Turquoise Stones: "I'm really feeling this color for next spring. Plus, turquoise jewelry is a great accessory to brighten up a more subdued outfit."