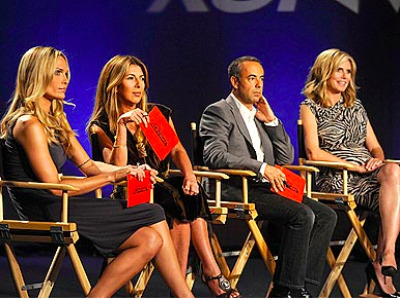 On this week's episode of Project Runway, the contestants take to the streets of NYC for design inspiration, while supermodel Molly Sims and Calvin Klein designer Francisco Costa join the judges.
The challenge will send the designers into the city to glean inspiration from four different neighborhoods - which, we're dying to see which ones they choose. It could go either way, as in, the obvious choices like Williamsburg, NoLIta, SoHo and, say, Chelsea or perhaps they'll really make 'em work and send them out to the Upper East Side, Times Square, Midtown and Red Hook....
To critique the fruits of said inspiration will be model/actress Molly Sims and Calvin Klein's esteemed lead designer, Francisco Costa, filling in for Michael Kors. She's not the totally quintessential New Yorker we'd have guessed first for this particular challenge, but having worked in the business for as long as she has, she's certainly become well acquainted with the city, so, for once, we'll try and hold the judgment. Costa, on the other hand, has a near-impeccable reputation in the business, so it will be interesting to see his critiques of the
Calvin Klein, on the other hand, is as New York as a big apple and controversial billboards in Soho, so we can't wait to see Costa's take on the challenge.