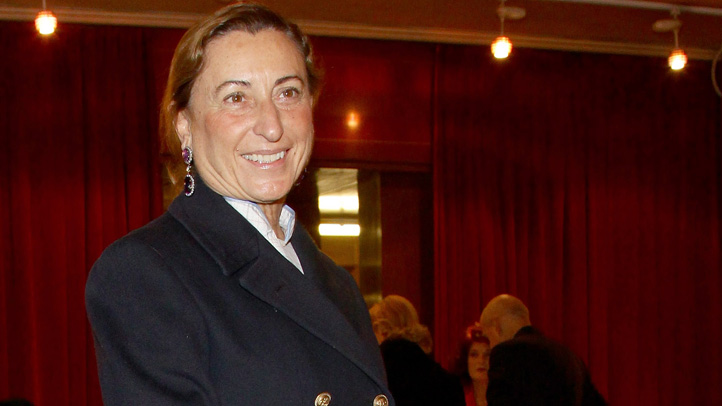 While most designers would give anything to be the subject of a massive fashion exhibit -- especially one at the Met's Costume Institute, whose most recent exhibit on Alexander McQueen set records for attendance -- Miuccia Prada seemed in an interview with WWD to be less than thrilled with hers.
The designer is set to be the subject of the Costume Institute's upcoming spring collection, which compares her work with that of fellow Italian designer Elsa Schiaparelli. (The exhibit is titled "Elsa Schiaparelli and Miuccia Prada on Fashion.")
In an interview with a WWD reporter backstage before her menswear show, however, Prada appeared less than thrilled with the comparison:
"It's too formal; they are focused on similarities, comparing feather with feather, ethnic with ethnic, but they are not taking into consideration that we are talking about two different eras, and that [Schiaparelli and I] are total opposite," said the designer before her show on Sunday. "I told them, but they don't care."
Now, Prada has issued an official statement concerning her remarks, which she claims were "taken out of context":
Miuccia Prada is honored and proud to take part in this exhibition which is "an impossible conversation between Miuccia Prada and Elsa Schiapparelli [sic]". The comments printed are taken out of context and therefore misconstrued.
The statement continues to assert that Prada actually "admires" the museum's independence when it comes to the exhibit, even going so far as to say that the curators "almost did not take into conideration her vision."
We initially reported that Prada's concerns about the exhibit seemed fair, considering the designers don't necessarily share immediately-evident similarities (other than the fact that they are both Italian. On the whole, one would hope that the Met's exhibit would be its own take on fashion -- and not altogether influenced by Prada's view of her own work.