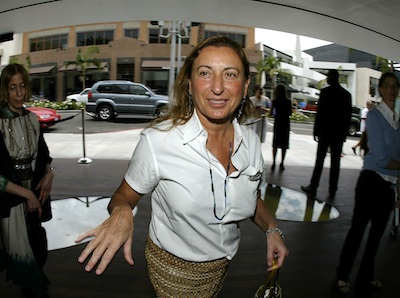 As the luxury market in China heats up, Miuccia Prada -- whose label boasts 14 stores in Mainland China, nine in Hong Kong and two in Macau -- sat down with WWD to talk about the rapidly changing cultural landscape there, as well as the evolution of her own brand as it fits into the process of globalization. Prada may not be the most technically proficient designer -- she does not use a computer and reads blogs that are delivered to her on paper -- but it is clear that the Chinese market has piqued her interest, as it has for so many other designers.
The runway show Prada presented last weekend showed off the spring collection with a "festive upgrade," according to the designer, with cotton fabrics switched out for silk and canvas bags reimagined with silk and saffiano leather in response to the growing Chinese demand for what Prada called "richer products."
The line was made available on a made-to-order basis the day after the show, but typically, Prada said, the ever-expanding globalization of fashion has resulted in "just one collection [that tries] to accomodate a world which has become a lot bigger." She explained, "up until the Seventies, fashion was white, Catholic, Western. Now, fashion embraces the whole world."
Amidst the constant speculation over the brand's multiple attempts at an IPO -- which Prada dismissed as untrue --Prada's husband and CEO of the brand, Patrizio Bertelli told WWD, "At this point, we think a listing in Hong Kong is the most opportune solution," but also said that nothing had been decided.
Prada plans to open nine new stores this year in Mainland China, WWD reports, and also has announced new design studios in Hong Kong and Paris. Says Prada:
This is an effort at becoming more open. We open stores everywhere, we have offices everywhere, so it's right to do this as well.
One of the most interesting parts of Prada's reflections on globalization was her analysis of cultural differences among not only the Chinese market -- which clearly wants rich and luxe -- but Germans ("sportier"), Americans ("more minimal) and Japanese ("Perhaps Japan is the only country that retains a bit of differentiation right now. There is something about that country that escapes me.") As for Italy, Prada intriguingly declined comment, but confirmed her interest in getting involved with politics.