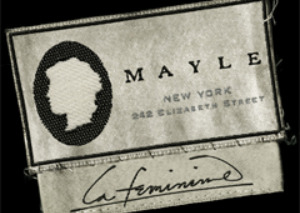 It was with heavy hearts that we bid adieu to designer Jane Mayle's namesake fashion line and her Nolita boutique last May, but it looks like fans of the cult-designer's cool, feminine wares are in for a treat. Today Fashionologie reports that Mayle is making a comeback, both in the form of a pop-up shop and footwear collaboration with Sigerson Morrison.
Those on Mayle's email list received an email last week alerting them of the news:
"I wanted to let everyone in on a little secret. Jane Mayle is making a comeback in the form of a pop-up shop in late September. It will last for about 3 weeks. Dresses, coats, tops, handbags, shoes, and boots. A full collection for Fall 2010! Along with this Mayle pop-up, Jane is also collaborating with Sigerson Morrison (uptown) with shoes/boots, and they will also be carrying select pieces from the line."
No word yet on exactly where or when the pop-up shop open its doors, but when you have as rabid a following as Mayle, nothing stays secret for very long.