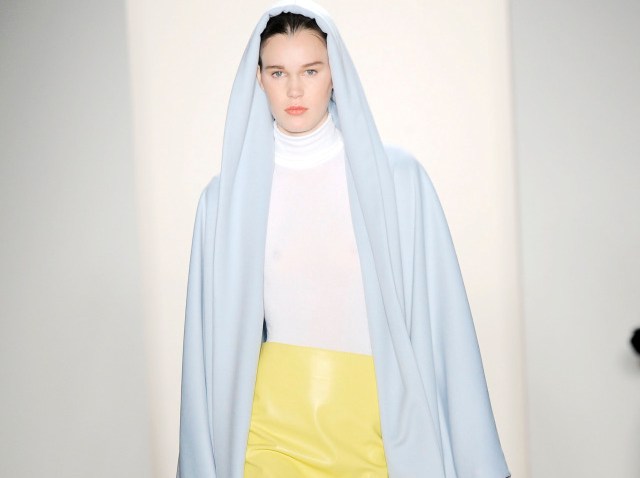 Matthew Ames is one of the most well-regarded up-and-coming talents on the American scene, so the low turn-out for his elegant show was certainly a bummer. The clothes, however, were refreshingly clean.
Ames is, of course, known for his incredibly pared-down silhouettes: The focus here is on simplicity -- there's nary a seam that doesn't need to be there, and Ames showed prowess in creating both curve-hugging miniskirts and cocoon-like hooded jackets. Many of the looks had a certain androngynous quality -- menswear was shown right alongside the womenswear (and we mean right alongside -- male and female models walked together in pairs down the runway). Ames' collection took a few cues from the current on-trend elements, however -- namely leather, which appeared in miniskirts and even a tank dress.
The most pleasant surprise was the presence of some pastel colors -- typically an autumn no-no but somehow perfectly suited here -- including pale yellows and icy blues. We also loved the footwear -- prep school-meets-house-shoe loafers in the most versatile shade of caramel. For pavement-pounders like ourselves (especially at the end of day in heels), they looked most welcome.