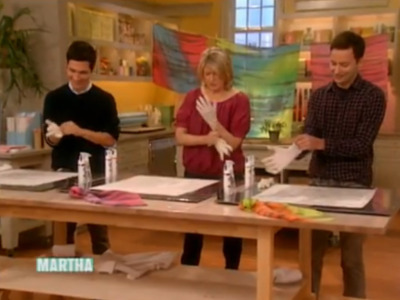 This week was fashion week on Martha Stewart, welcoming couturier Ralph Rucci, Elle editor-in-chief Robbie Meyers and Jack McCollough and Lazaro Hernandez of Proenza Schouler to the show. Stewart's crafting session with McCollough and Hernandez to make tie-dye scarves was definitely the highlight.
The adorable Proenza Schouler duo were all smiles as they tie-dyed with Martha - who in true fashion, proclaimed her finished scarf to be perfect, while reassuring some of the industry's strongest stars that they'll get better wtih practice. The DIY project yielded a similar effect to the pattern found in the label's spring collection, which was also showcased with a catwalk presentation during the show.
We've been all wrapped up in Proenza Schouler and tie-dye since seeing the show and are subsequently crushing on the limited-edition tie-dye tank on the PS website (below), but at $275 it might be a little steep for our summer vacation.