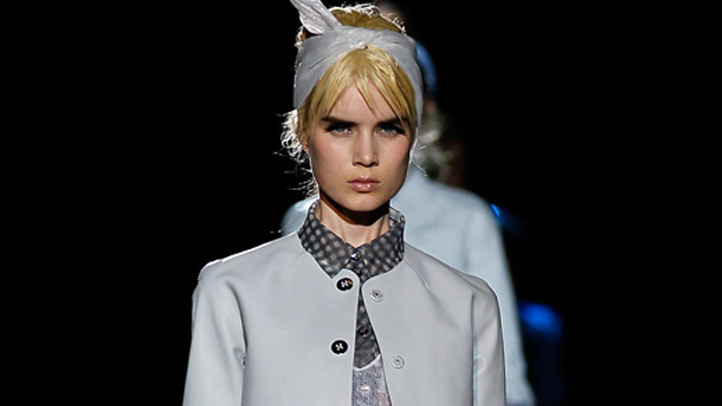 After the spring collections are debuted on the runway, most brands host a more intimate press day for editors to get up close and personal with the goods. The pieces that are shown are samples -- typically one of a kind pieces that end up shipped to various publications to be photographed for shoots or kept in a showroom for drop-in visits from editors.
Just before Marc Jacobs' press day was scheduled to take place in London, the Telegraph reports that it received a devastating e-mail informing editors that the Spring 2012 collection had, in fact, been stolen en route from Paris:
"Dear all," the email woefully began. "The Marc Jacobs PR team is sorry to inform you that our press day tomorrow ... in the Marc Jacobs store is cancelled, due to the theft of the spring/summer 2012 collections during its transfer from Paris." Impressive, considering the collection consisted of 46 looks - hardly an under-the-T-shirt job is it?
Considering the collection itself is probably already into production mode, it's not likely that the theft will affect Marc Jacobs from a retail perspective, but it's not clear how the brand will manage the various press commitments and magazine shoots it likely had scheduled, should the collection not be recovered.
UPDATE: WSJ's Heard on the Runway blog is reporting that the entire collection has not been stolen:
Officials at Marc Jacobs declined comment but a person familiar with the situation told Heard on the Runway that it's untrue that the entire collection was stolen. The runway looks are here in New York, this person said.
The WSJ points out, rightly, that there is more to a designer's seasonal collections that the runway looks, though it now seems less clear what, exactly, was stolen. Any theft at this time of year -- when a label is often juggling press and some buyers -- is undoubtedly less than ideal.
WWD is also reporting that it was not the entire collection that was stolen, but "some ready-to-wear and accessories." The trade daily also noted that the theft occurred in London, and that the matter is currently under investigation.