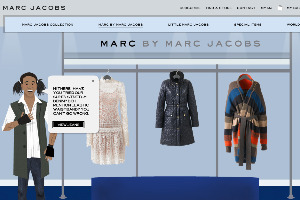 Marc Jacobs is no stranger to keeping his fans waiting (remember that infamous Spring 2008 runway show that started two hours late?). And so, we took it as typical MJ fashion that the designer's much-anticipated e-commerce site, scheduled to launch during Fashion Week, was delayed for another short while. But as is often the case with all things Marc Jacobs, we're nonetheless thrilled with the results. The site, which launched last night incorporates a winsome blend of playful illustrations alongside product photos and video footage from runway shows.
To mimic an actual in-store shopping experience, the home page features a virtual storefront, whereupon entering you have the option to visit various floors depending on which collection you're seeking: Marc Jacobs, Marc by Marc Jacobs, Little Marc Jacobs (kids) or even specialty items like some of the signature knickknacks sold in the designer's boutiques.
Though the collections aren't entire compared to what you'd find in an actual boutique, the range of goods is an impressive one. Where else can you can toss a $8000 fur coat into your shopping cart along with Jacobs' latest fragrance, Bang (for men), and a mini colored-pencil set for $8? The wait was definitely worth it.