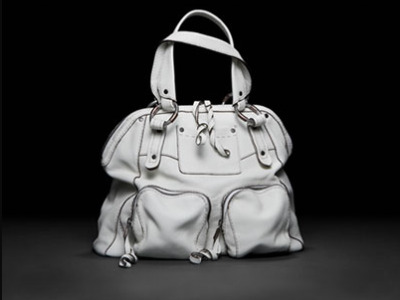 Enter the newest phase in the changing retail landscape: middle-of-the-road stores from Ann Taylor to Abercrombie are introducing big-ticket bags.
Not to give J.Crew credit for, like, everything, but several seasons into their increasingly luxe accessories offerings - besides the requisite range of day and evening bags, they stock Belstaff, Globe-Trotter and Lugano luggage for tippity-top dollar - the Wall Street Journal reports that like-minded stores - Talbots, Ann Taylor, Abercrombie & Fitch - are upping the ante by offering bags at prices that reach $500.
Talbots' $425 python shoulder bag marks the brand's aggressive plan to transcend their granny-esque image into a more fashion-conscious realm. With Ann Taylor's gradual climb up the fashion ladder (we've noticed some pretty cute items in the Loft stores) come handbags going for close to $300. Even Abercrombie & Fitch, a pioneer in the shockingly-high-prices-for-a-mall-shop realm, is re-branding its defunct sister store Ruehl's leather bags, hawking them as their own, for $98 to $340.
According to those responsible for revamping brands after the recession say that the new pieces aim to welcome shoppers as they ease back into spending, by offering the all-important investment bag. Sure, it's a price higher than shoppers remember, but the price is not nearly as high as those offered at department stores and designer boutiques.

The WSJ story also brings up the conundrum that, if given the chance to spend a couple hundred dollars on a bag, will shoppers go for the lower end of a known handbag label that represents the lifestyle to which they aspire, or stick to their roots, with say, a Talbot's bag? It's an interesting debate that differs greatly among neighborhoods and attitudes.
We can't quite decide . . . Either the old-standbys have gone to the dark side by creating luxury bags, or they've opened up a new, just-right niche in the middle of the handbag market.