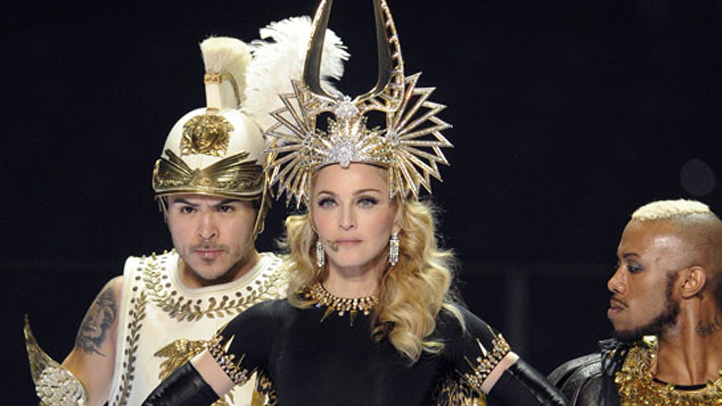 Fans of old-school Madonna will likely be overjoyed to learn that the icon is teaming up with the designer behind some of her most memorable '90s looks -- including that cone bra -- Jean Paul Gaultier.
Gaultier has been enjoying quite a bit of press this year as he approaches his 60th birthday and gets his very own touring exhibit of his all-time best looks. Most recently, he was tapped to be Diet Coke's creative director in Europe.
Last week, Gaultier spilled that he'd been re-enlisted by The Material Girl to design the costumes for her upcoming MDNA world tour, and now Madonna tells WWD she couldn't be more excited:
"I worship and adore [Jean Paul Gaultier]. He's creating one of my costumes, and kind of godfathering the costumes for a section of my show, with all my dancers. I'm really happy he's doing it, because he's such a genius. And I'll probably wear something that Riccardo [Tisci] from Givenchy makes. But the rest of it is going to be what my costume designer Arianne Phillips creates with me."
Madonna wore custom Givenchy during her performance at the Super Bowl XLVI half-time show, so it makes sense that she'd continue that collaboration into her new tour as well. While we're sure the duo are exhausted by the fanfare surrounding that infamous cone bra look, here's hoping there are some playful nods to their '90s costume work involved in the tour's looks.