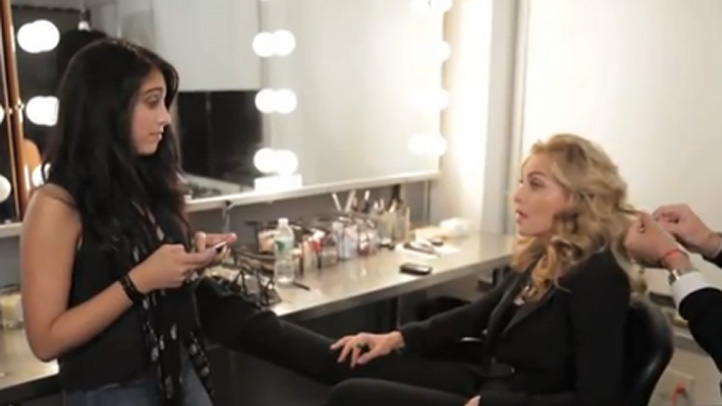 In a new video promoting Madonna and daughter Lola's search for a new model to represent their Material Girl line at Macy's, the original Material Girl certainly displays a healthy sense of humor about herself.
In addition to insisting that the phrase Material Girl was always meant to be "ironic," she in turn chastises Lola for offering her fruit ("Fruit hurts my stomach!), complains that her corset is too tight, and insists that she "doesn't eat things I can't identify" -- all the while having her hair constantly fluffed and re-arranged by a stylist. "People think I'm like, a superficial person, and I'm not," says Madonna. I love horses, I love flowers — well, I don't love hydrangeas."
As for the qualifications Madonna thinks the next Material Girl model will need:
"We're not looking for a model. We're not looking for the perfect beauty. We're looking for a woman-girl female-child, who embodies the certain je ne sais quoi -- a certain spirit, energy, attitude, cares but doesn't care, immaterial but material girl. You know what I mean? Likes to shop, but also cares about ... feelings."
Anyone who feels she fits the bill should report to Macy's Herald Square on November 2nd, where there'll be an open casting at 5PM.