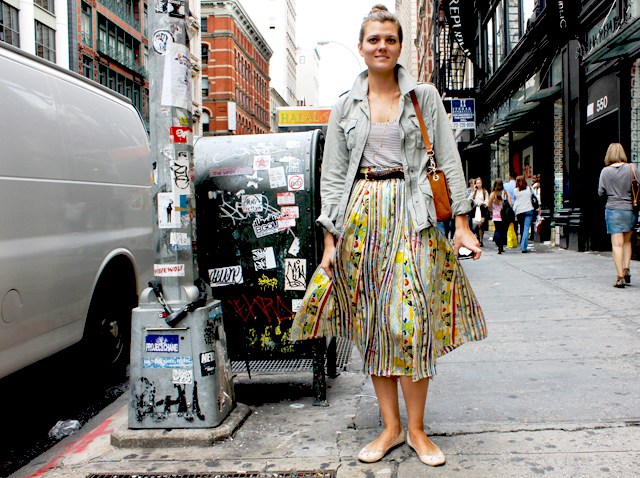 Among the hordes of frenzied Soho shoppers, Madison Shoop's cool yellow printed skirt stood out like a chic sore thumb.
Even though she was hurrying to her lunch hour, the friendly Miss Shoop agreed to give us a closer look at her fabulous military-meets-retro-glam ensemble. Our takeaway: don't be afraid to mix tough-girl basics with more feminine finds.
Hometown: "Malibu, California."
En Route To: "Work at PopSugar Media."
Today I'm Wearing: "My favorite vintage skirt, a J.Crew tank, vintage belt, jacket from Banana Republic, and J.Crew satchel."
My Style in Three Words: "Preppy meets trendy."
If I Could Sit Front Row at Any Fashion Show, It Would Be: "Chloe. My very favorite!"
The Best Thing I Bought This Year Was: "Probably this bag, as a matter of fact. I'm kind of obsessed with it."
My Signature Middle School Style: "Express Sale Rack."