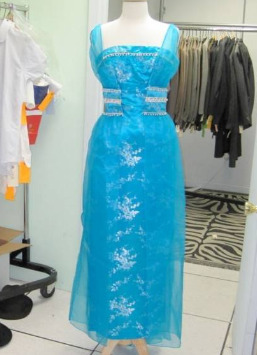 It practically goes without saying that Mad Men has rendered most of us gaga for the refined and feminine, sometimes swishy, curve-embracing fashions from the early 60s. Now you actually have a chance to own a Betty Draper dress and not just a modern-day remake.
In an Ebay-run charity auction to benefit City of Hope, over 100 props and pieces of furniture from the show's first three seasons are up for bids, including a stunning turquoise dress worn by Betty Draper, a bright-green shift worn by Joan Harris (nee Holloway), and a paisley cocktail number worn by Bobbie Barrett (a guest character who had a few ill-fated indiscretions with leading man Don Draper).
Since the fourth season took a rather new turn—leaving the offices of Sterling & Cooper behind for a fresh start—the show was left with an abundance of mid-century modern-style furniture and props. We think putting the surplus goods up for auction is just one more reason this show is oozing with class.
Currently, Harris' green shift has the highest bid of the three dresses at $430 (And, kapow! The measurements are 39" x 30" x 39"), while $5,200 will fetch you a walk-on role on the fifth season. The auction ends on August 22, so we'll be anxious to see what the winning bids are.