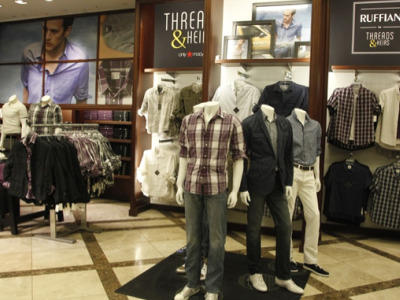 Seems as though menswear is beginning to get its share of the fashion pie lately, with Macy's launching Threads & Heirs, a mid-priced contemporary line designed by the boys behind Ruffian.
The collection has set up its 1,000-square-foot shop on the main floor of the Men's Shop and is aimed at the 20-40-year-old set that cares about style. Ruffian's Brian Wolk and Claude Morais designed about a third of the collection, after having started designing ties for Barneys before crossing over to women's. The selection retails between $24-$99 and ranges from classic basics like knit polos, to more stylized pieces given a Ruffian-esque spin, including weathered chambray and constrasting colors.
At this point, Wolk and Morais are signed to a year-long contract with Macy's, and both parties are waiting to see how the first rollout of Threads & Heirs goes to decide where to go from there.