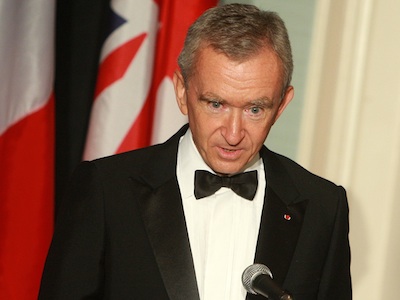 Bernard Arnault, chairman of LVMH Moët Hennessy Louis Vuitton, traveled to Washington to receive the Corporate Citizenship award from the Woodrow Wilson International Center of Scholars last week, WWD reports.
The tribute to Arnault's work with the French company included high praise from heads of state President Barack Obama and British Prime Minister Tony Blair, as well as a video toast from Marc Jacobs and performance by U2.
In his acceptance speech, Arnault underscored the importance of social responsibility and a strong moral code to the success of his business of luxury and fine living. As WWD reports, Arnault said:
"Tonight, you do not just honor me. What you honor with this special award is a commitment of more than 80,000 people with a unique ambition to delight the world, to beautify our universe and to inspire the spirit of our times. Included in these today is the idea that corporations are also citizens with social responsibilities, a concept that I think of as distinctly American. I'm proud to say that we have adopted this principle at LVMH and we apply it not just at home in France, but around the world."
It is perhaps with that dedication to responsibility that Arnault handled the controversy surrounding John Galliano's anti-semitic rants caught on video: The company fired the Dior designer swiftly and definitively, despite the industry's infatuation with the designer's talent.
On the other hand, Arnault is not without his enemies, especially over at rival house Hermès. Just last month, CEO Patrick Thomas compared Arnault's strategic acquisition of 20 percent of his brand to rape, and the LVMH chief is being investigated for the means by which he landed the interest.
At the essence of the heavy accolades being bestowed by the power players in the room, surrounding Arnault's "heroic" efforts at building a responsible global business, was Marc Jacobs' simple, reverent sentiment: "I just think he's a great businessman and a great appreciator of the art of living."