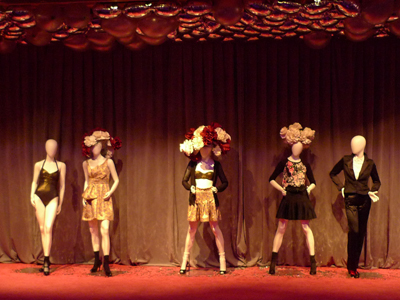 A little over halfway through the Zac Posen for Target 24-hour shopping pop-up, there are no lines and no waiting for dresses and jackets, though alas, no gowns and tees are left.
Most of the styles, to be frank, are already sold out -- from the first-time-ever long gown to the zebra-like pink cocktail dress to the cute tees with "Zac" scrawled on them. But the styles that do remain are still rather plentiful, and include the incredibly charming pansy-print brocade dress ($74.99) and the poufy ruffled tulle dress ($79.99) in both black and red. We also spotted some of the tuxedo bodysuits and over a dozen of the red leather jackets ($199.99).
While we were there, one of the attendants told us that a second shipment of the wares actually hadn't made it in today, which might have otherwise boosted the number of pieces available, though all the styles were there last night, and we wouldn't be surprised if most of the stock would have sold out twice over. Regardless, we'll have to wait for the April 25 launch to score one of the gowns.