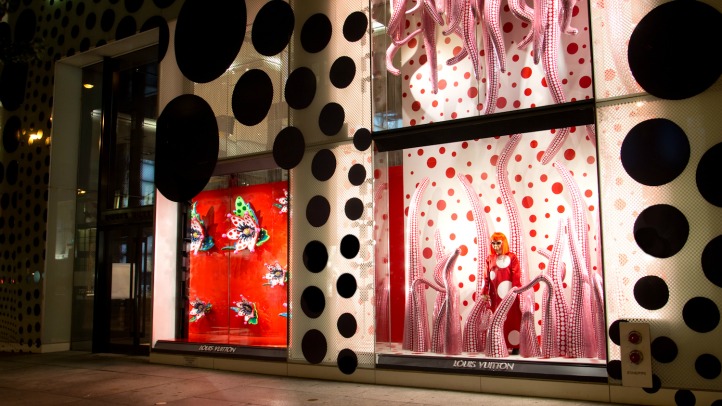 Louis Vuitton has a long history of collaborating with famed artists—Richard Prince and Takashi Murakami among them. The latest pairing is with 83-year-old Japanese artist Yayoi Kusama, one of the hottest commodities in the contemporary art scene despite having voluntarily lived in a mental hospital since 1977. The artist has become almost as prolific as her work in recent years thanks to her off-the-grid life, a penchant for electric hued wigs and a momentum for churning out new art that has many comparing Kusama to Andy Warhol (who had been a friend).
The collaboration with Louis Vuitton Creative Director Marc Jacobs includes shoes, handbags, shirts, skirts, sunglasses and other accessories all featuring Kusama's signature dots.
In addition, Louis Vuitton unveiled window installations at its flagship Manhattan store on Fifth Avenue yesterday, paying tribute to three of Kusama's signature motifs: "Beginning of the Universe," "Eternal Blooming Flowers in My Mind" and "Self Obliteration." One window features floating flowers, another features a life-size figure of Kusama (Vuitton is also selling dolls in Kusama's likeness). The store's façade has also been covered in black dots in homage to Kusama's work. Similar window installations will be revealed in all 453 Louis Vuitton stores worldwide in the coming weeks.
Kusama made her first stateside appearance in over 30 years at the unveiling. In a wheel chair, the artist waved to throngs of onlookers and fans. "I promised myself that one day I would conquer New York and make my name in the world," she told the crowd. Fittingly Kusama had been a fixture of the New York avant-garde art scene in the 1960s, before moving back to her native Japan in 1973.
As for how the collaboration came about, Kusama told Women's Wear Daily: "Marc Jacobs came to see me in Tokyo in 2006 and he asked me if I wanted to come to the States and do fashion. That sort of encouraged me. At that time, I was writing poems and novels. Fashion has always attracted me."
Outgoing Louis Vuitton CEO Yves Carcelle told Women's Wear Daily, such projects "tend to be a commercial success because of the strength of the artist and the strength of Vuitton," He continued, "It's not to put products on shelves." Past collaborations have sold out swiftly and have been widely copied by counterfeiters.
The launch of Yayoi Kusama x Louis Vuitton corresponds with the opening of a retrospective of Kusama's work at the Whitney Museum of Art, opening July 12th, so let the dot invasion begin.