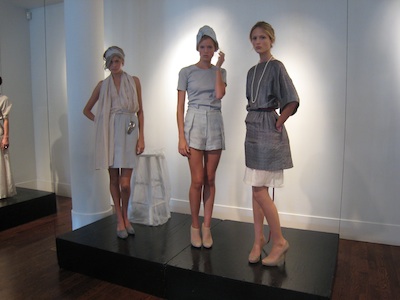 The Lorick spring 2011 collection marks a surprising departure from the designer's typically ornate, girlish glam to a purified series of sheer separates.
Presented in a bare, white-washed studio, the collection consisted of bright white and serene neutrals and pastels in vaporous silhouettes: wide-leg pants and hems to the floor, drop-waist blazers and blouses, and sheer overlays on just about everything from gloves to tops to shoes.
As the designer of Gossip Girl's gleefully ridiculous get-ups for the show's prepster and bohemian socialites, Abigail Lorick has blazed a signature aesthetic based on fantastical, fun dressing. With this latest collection, she makes a significant leap into the minimalist abyss while still maintaining inherently pretty touches in each piece: She never wavers in the ability to convince us that we're all just playing a game of tricked-out dress-up.
We were smitten with the jewelry -- courtesy of Linhardt, Lady Grey, Bevel and Robert Lee Morris. Jumbo, single-pearl rings offered the perfect little wink to remind us that however minimal it all looks, this is, after all, still Lorick.