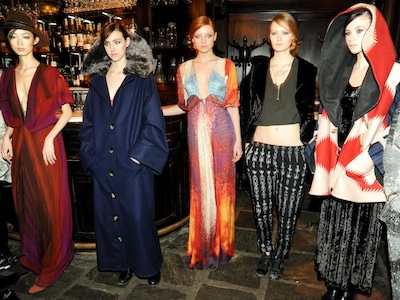 Lindsey Thornburg has hit that sweet spot as a designer, unveiling a fall/winter 2011 collection strongly rooted in her signature aestic, anchored by well-mastered cloaks -- it's all unmistakably her -- but sprinkled throughout with small, adventurous leaps into an expanding realm of ready-to-wear.
New for fall is Thornburg's successful first go at a self-made print on both modal and cashmere, called "brush fire" and blending with rest of the elegantly piled-upon pieces in silk and velvet and dense wools--the collection seems to dance between setting silks ablaze then extinguishing them with a woolen blanket. Thornburg's first suit shows off her own take on tailoring, adding a carefully slouchy silhouette that keeps things impeccably hip.
Held at the Chinatown bar Bacaro, the packed presentation was just as much a party for Thornburg's denizen friends, intermingling with models styled like intelligent gypsies in 'LT' tattoos, Anna Sheffield jewelry and Little Doe hats.