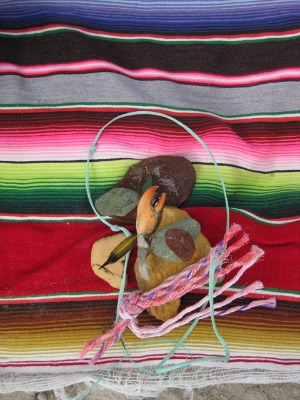 Amidst the pre-Fashion Week frenzy and more than a foot of snow, these postcards from Lauren Manoogian made us melt. In the past, the designer's global wanderlust has been reflected in her jewelry, but for Fall 2011, the source of her inspiration was a little more local: some time with old friends this September in Martha's Vineyard. They stayed in a grandmother's beach house, where the combination of clean architecture and collected objects made Lauren feel inspired, and at home.
"The way the grandmother's house was decorated," she explained. "It's the really modernist things, but then that ethnic blanket, or that house blanket that you're taking with you, or wrapping around you." That feeling spilled onto the beach. Picture forts with fires, sun-faded pieces of nylon rope, and seafood feasts.
After a year that included relocating from Los Angeles to New York and adding knitwear to her line, we can understand Lauren's instinct to keep things close to home. For her, that meant a simple fall getaway. For her collection, it will mean a more primary palette and clean metals with knotted lengths of leather. September at the beach – we can hardly wait.