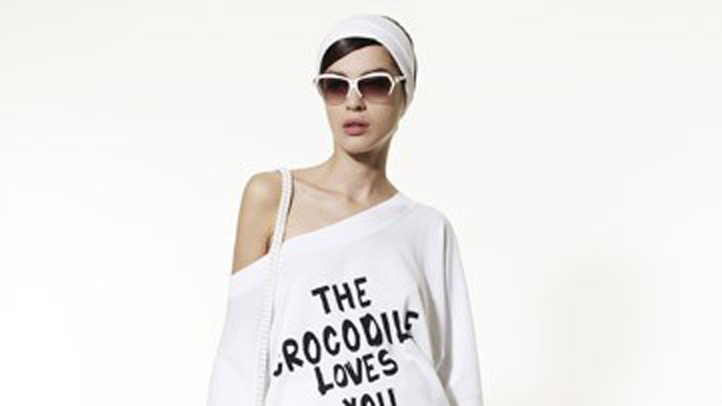 In an effort to breathe new life into its classic, preppy-polo-anchored aesthetic, Lacoste has teamed with Catherine Malandrino on a 12-piece collection for spring 2011, dropping in stores in mid-April, WWD reports.
Spring marks the first of four seasons' worth of collections that Malandrino will design, and encompasses an adventurous array of separates including harem pants, dresses, wide-leg trousers, and miniskirts. According to execs at Lacoste, Malandrino took her task seriously, bringing the much-needed fashion angle with gusto. As she told WWD:
"My most important role with Lacoste is to open the door to the feminine world. Now I am relaying effortless, chic, everyday clothes that you don't have to think about. All of the silhouettes can be eye-catching, whether it is a miniskirt or high-waisted pants."
Perhaps most significantly was Malandrino's treatment of Lacoste's venerable 80-year-old crocodile logo, which is featured as a kissing pair in the spring collection. CEO Steve Birkhold told WWD that the changing of the logo was actually seriously significant: "We might change the color, and we have used an enlarged one, but it was a big deal to turn the crocodile around."
The collection will trickle into Lacoste and Malandrino boutiques worldwide, arriving at New York's remodeled Fifth Avenue flagship in July. Wholesale price points fall between $145-$650 for spring, with fall starting at $165. While the five-button pique polo remains the brand's kingpin seller, Birkhead told WWD Malandrino's touch is crucial for a refreshed image—"We look at it as creating a new interest in the overall brand," he said.