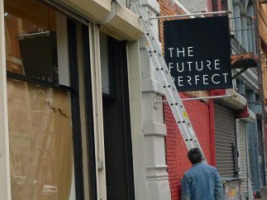 There are plenty of reasons we'd love to travel to L.A. in February -- the weather, the Mexican food, and (of course) shopping. Thankfully, one piece of L.A. will be coming to us in the form of accessories shop TenOverSix.
Granted, it isn't warm weather and sunshine, but we'll take it. TenOverSix has made a name for itself on the west coast by compiling a well-edited list of independent, insanely talented designers under one roof -- from Dieppa Restrepo lace-up flats to Scout yarn necklaces to quilted booties from the store's eponymous in-house label. According to Refinery29, New Yorkers will be able to sample TenOverSix's wares in a little store-within-a-store at design gallery The Future Perfect at 55 Great Jones Street.
Back in November, the site had posted a little notice about The Future Perfect's new Soho outpost (the main studio is in Brooklyn), and now we're pretty sure that was a little planted clue that we missed! No matter, we can't wait for the big opening.
TenOverSix at The Future Perfect opens February 9 at 55 Great Jones Street.