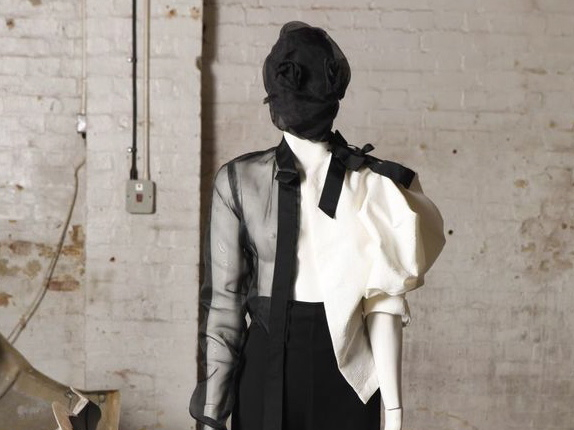 If you're indecisive when it comes to outfits, then Silvina Maestro is the designer for you. Maestro's technique of combining disparate pieces to create fresh looks is sure to satisfy any split fashion personality.
Ms. Maestro cut her teeth at Central St. Martins before bagging gigs at some of fashion's most illustrious houses, including Givenchy (where she designed ready-to-wear jersey pieces), Nicholas Kirkwood, Emilio de la Morena, and the late, great Alexander McQueen. Her debut Autumn/Winter collection, inspired by the Flemish still life paintings of the 16th and 17th centuries, aims to explore "the physical and the meta-physical, the body and the soul, the past and the present," according to a loftily-written press release.
Big words aside, we think Maestro's mini-collection (only 6 looks in total) is a promising introduction, and find it interesting that she borrows more heavily from Japanese high-fashion (the sheer masks are very Commes) than her European resume would suggest. Her jagged opaque panels and conjoined garment technique create a dark, topsy-turvy effect, but surely anyone that uses gold lame so liberally has a sense of humor, too.