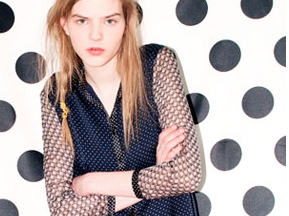 If Erin Wasson didn't already design her own label for RVCA (or if she wasn't Alex Wang's official muse), she'd probably spend her days lollygagging in pieces by Rozae Nichols, the LA-based designer whose flowy, vintagey separates make us want to pack up and head west.
Last season, Nichols revamped her namesake label to launch IAN, a decidedly more sleek, all-black version of her charming Angeleno aesthetic that was quickly scooped up by Barneys and Opening Ceremony. We dug the more refined garb, but were missing Nichols' signature prints and sunny, Californian optimism.
Which is why we were delighted to hear about Nichols' second line, ROZAE. With a renewed emphasis on prints--often styled in wild, clashing combinations--ROZAE is a return to Nichols' hippy-boho roots, inspired by color-saturated art by the likes Robert Rauschenbreg, Sigmar Poke and Yayoi Kusama. After watching so many wacky mixed prints on the runways this past fashion week, we're certain Nichols' new line of trend-perfect pieces will enjoy even more success than IAN.