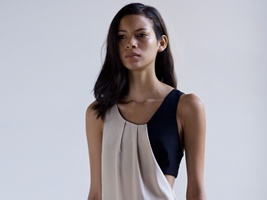 Yara Flinn launched Nomia at the end of 2006, and the line's quickly been snapped up by boutiques like Steven Alan, Honey in the Rough, and Oak. It's no surprise why -- her designs are sexy but in a subtle, forward-thinking way. Based out of Williamsburg, Brooklyn and currently super busy gearing up for her new fall collection, but Flinn took a few minutes to let us pick her brain.
When did you start Nomia? And what had you been doing before?
I started Nomia in the fall of 2006 (Spring 2007 was my first season). Before that I worked at the Prada Foundation, which is Prada's non-profit art foundation. I also interned with United Bamboo.
Though you design cute blouses and skirts, the majority of the spring pieces are dresses. Do you live in mainly dresses?
I mostly wear jeans and t-shirts, and I like to design the types of dresses that girls who don't usually wear dresses would wear.
If you get stuck for inspiration one morning, what do you do?
I go to galleries in Chelsea or the Met. I love to draw inspiration from areas other than fashion. Sometimes even hearing the perfect song can inspire me!
Have any all-time favorite style icons?
I like people that exude personality and confidence. For that reason, I love Patti Smith. It's much less about fashion than about personal style.
What about other designers you admire?
I love the simplicity and elegance of Helmut Lang and Jil Sander.
Any hints for the fall collection?
An athletic silhouette with mesh and netting details. I also added in some velvet pieces to introduce a new texture to the collection.