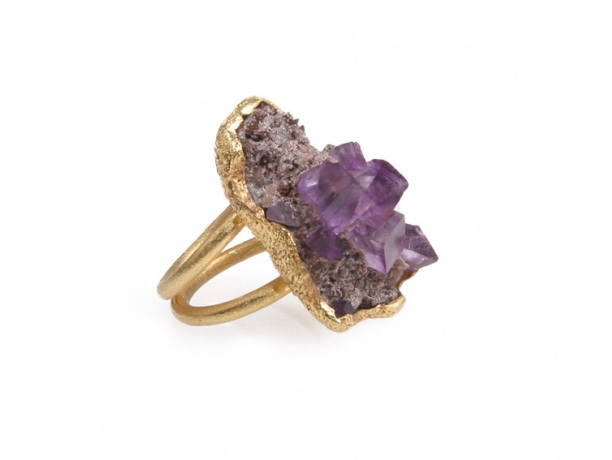 A quick peek at jewelry designer Natalie Dissel's collection is like glancing at the candy counter: the rich, mouth-watering colors and tantalizing textures are impossible to resist. Like a calorie binge for your jewelry box, Dissel's giant mineral cocktail rings, necklaces and bejeweled bracelets are pure deliciousness, with organic rock formations and precious metal settings.
Dissel developed her credo, "travel and absorb," over the course of numerous design excursions to Asia and Africa (she released her first collection after rebuilding homes in Thailand post-Tsunami). Her current collections, composed predominantly of raw minerals, semi-precious stones, shell, horn, and precious metals, are both bold and timeless, with statement-making rings, cuffs, necklaces and earrings all guaranteed to become family heirlooms.
Until recently, Dissel's work was only available in small European and Asian boutiques. Happily, the addition of an online shop makes her one-of-a-kind handmade pieces available to an American audience for the first time. Users have the option to shop by a themed collection ("Aquatic Realm," "BeWild") or by the stone of their choice. Each category yields dozens of drool-worthy options --so get clicking!
See the complete collection at www.nataliedissel.com/webshop.