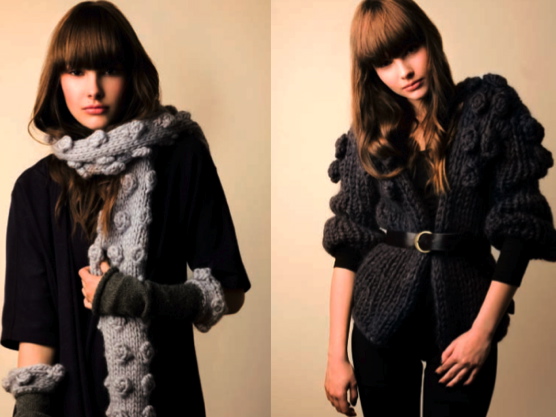 The current temperature may be hovering around 80 degrees, but that doesn't stop us from getting excited about the prospect of new sweaters, scarves, and caps. Which is why the discovery of fabulous UK knitwear designer, Amy Hall, is timely, despite the heat.
A self-taught designer, Amy Hall briefly interned with British label, Clare Tough, before deciding to launch her own brand. Her debut collection--crafted entirely by hand in Dalston and available to order immediately on her website--consists of seven styles of big, bulky knits made in luxe materials like silk, mohair, and merino wool.
But these aren't simply grandpa sweaters en haute: Hall puts a unique spin on classic knitwear staples like cardigans and beanies by adding design flourishes like thick ribbing, oversize proportions, and yes, even the occasional pom-pom. We love her giant capelet, named "the possum," in dark indigo wool with a slouchy mock collar and ruffled hem. Prices run rather high, but what the pieces lack in affordability they make up for in practicality: the giant infinity-loop "snood," for example, will never leave our neck come October.
Check out the complete collection at www.amyhall.co.uk.