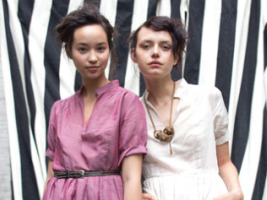 Jackson, Johnston and Roe was started up by Brooklyn-based Sara Moffat and Teo Griscom and Riley Salyards, who now lives in Amsterdam. The name comes from all of their mother's maiden names strung together. And the clothing? Well, expect some preppy staples done in decidedly low-key, laidback ways. Basically pieces that you can throw on and always look impossibly cool in. So we snuck in a few moments with the designers.
I love how your pieces are kind of preppy (sweater vests, oxford shirts), but still feel really relaxed and not at all stuffy. How do you nail that tricky note?
Our main objective is to make well made, beautiful and functional clothes. We strive for simplicity and classic shapes as well as interesting design detail and function which does end up taking what you may see as preppy and breathing new life into it. Really, no one needs another argyle sweater vest! Our fabrics mostly come from small mills in Italy. They are natural and high quality and with this combination our clothes are hopefully approachable and soon become favorite wardrobe staples.
How eco-friendly is JJR? And how important is that to you?
Sustainability has been a way of life for us, ingrained in us by our parents and it will continue to be a priority for our line. Luckily, more ecological materials are available now. The fabrics that we use are all natural and often organic. They include cottons, wools, hemp, bamboo, linen and silks. We use a peace-silk: no worms are harmed in the extraction process, and it is traditionally dyed with Indigo. Our buttons are made from recycled materials and we produce locally in New York. We have also done a collaboration with an artist who makes the most adorable necklaces from old baseballs!
Are all of your prints original?
Most of our prints are original. We were all schooled in the fine arts and love to paint and draw. Besides our own artwork, nature inspires our prints. But, yes, sometimes we come across a print that's too good to pass up!
Any hints about your upcoming F/W '10 collection?
The collection is streamlined and handsome with an effortless, layered, cozy feel. We have a few more unisex pieces and are continuing to do collaborations with lingerie and luggage designers.
What other designers do you like and why?
To name just a few, Isabel Marant, APC, Maison Martin Margiela, Tsumori Chisato, vintage YSL, Chanel. With all these designers we are in awe at their invention and creativity.
Jackson, Johnston and Roe is avaliable at ShopBird.com