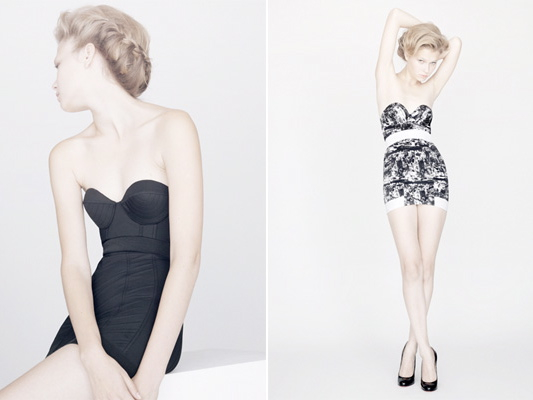 Parisian up-and-comer, Calla Haynes, cut her teeth at Parsons School of Design before conjuring up quirky textiles for the likes of Alexander Wang, Jeremy Laing, Thomas Engel Hart and Erin Fetherston. Now, the young ingenue has struck out on her own, with a debut collection of pinup-inspired spring attire that's getting us way excited for the coming warm weather.
For the retro chic among you, take a gander Calla's Monroe-worthy bathing suits and nude bustier tops -- which are entirely classier than they sound, and would look spectacular styled under a linen blazer three months from now. Equally awesome are the grey-flecked trousers, origami-folded skirts, and mini (very mini!) dresses. If only the lookbook included instructions on achieving that whispy, romantic top knot sported by the model...then this would be perfect.
Shop Calla Haynes Spring Collection at at Debut, 298 Mulberry Street.