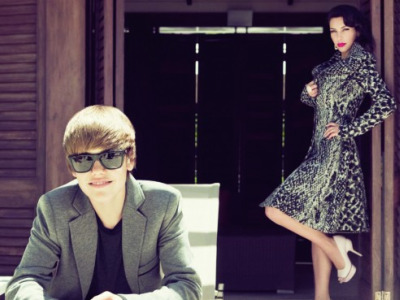 September issue fever has officially taken hold, with more and more ingenious shoots surfacing as the various glossies hit the stands. Case in point: Elle's brilliant pairing of Kim Kardashian and Justin Bieber in a "Graduate"-themed spread.
Paparazzi photos of the twosome actually surfaced back in June, prompting more than a few queries as to why the two would be frolicking together on a beach (and why, especially, Ms. Kardashian would be wearing a cocktail dress in the water). Now, as Kardashian's blog reveals, the photos were for a shoot in the September issue of Elle Magazine, wherein the twosome posed as a latter-day Mrs. Robinson and Benjamin Braddock.
Overall, we must admit, it's a fairly clever ruse -- and worth clicking through more of the photos on Kim Kardashian's personal blog -- though we must admit, Kim herself seems like a rather odd choice for Mrs. Robinson ...