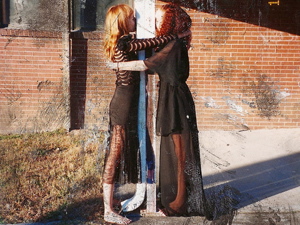 Definitely among the most unusual collaborations in recent memory, controversial director Harmony Korine—best known for his disturbing 1995 drama, "Kids"—served as primary photographer for Urban Outfitters' widely-distributed spring catalog.
Last year, Korine was introduced to the fashion scene with a short film for Proenza Schouler's Fall '10 collection. While Urban Outfitters has always styled itself on the "edge" of mainstream fashion, the decision to work with Korine still pushes the edge of the mass-retailer envelope.
The move also suggests a certain amount of street cred among the artsy pre-college crowd that the brand seems to target: Korine fans will recognize the gritty, candid quality of his images, while the winsome blonde PYTs and paint-splatter effect along the borders keeps the catalog rooted in familliar UO turf.