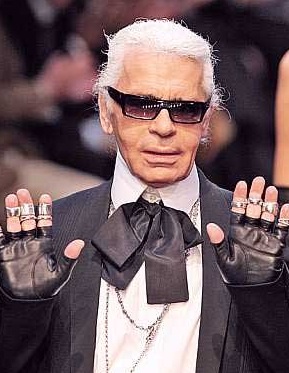 Fashion's Night Out already promises to be one lively, designer and celebrity-filled affair, but the evening's revelry will get an early kickoff as Karl Lagerfeld is honored by the Fashion Institute of Technology (FIT) at the Couture Council Luncheon that Friday afternoon. Simon Doonan will host the event at Lincoln Center's Avery Fisher Hall, where fashionable ladies such as Daphne Guiness, Amanda Brooks, and Lauren Santo Domingo will gather to toast the German-born designer as he receives the council's Fashion Visionary Award.
Lagerfeld, who will be presented with the prestigious award by Chanel loyalist—and muse—Diane Kruger, got his first fashion-industry accolade when he won an international coat competition back in 1955. Since then, there's been no turning back for iconic designer who took the reins at the legendary house in 1983.
In addition to design stints at Balmain and Chloe, and also helming his eponymous line, Lagerfeld has reinvented himself as a visionary photographer, publisher, and collector, not to mention the fact that he's been the subject of several documentaries, fashion exhibitions, a visiting lecturing professor at the University of Applied Arts Vienna, and recently a recipient of the Commander of the Legion of Honor award from French President Nicholas Sarkozy.