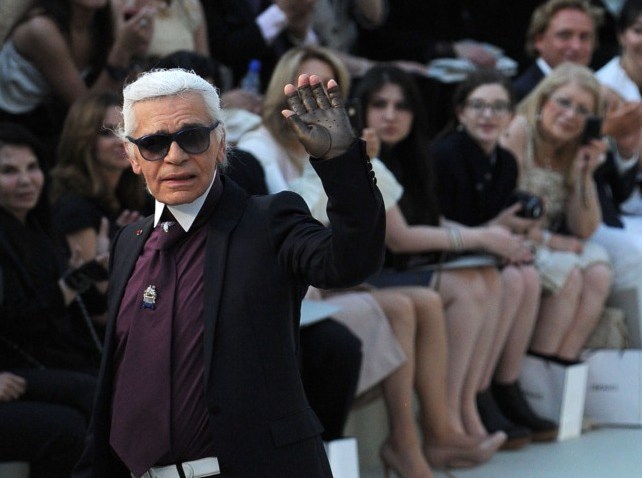 It seems Karl Lagerfeld has officially caught the "mass fashion" bug. Following the designer's recent foray into affordable fashion with a capsule for Macy's, Lagerfeld recently announced plans to launch a new, full-scale line called "Karl," to be priced in the more attainable $95 to $450 range, WWD reports.
Despite both the designer's cult of personality and his well-regarded posts at both Chanel and Fendi, Lagerfeld's eponymous line has never quite taken off among consumers in the fashion set. (Indeed, most know him more as the chief designer of Chanel and the designer of odd one-off projects like a new Diet Coke bottle.)
With a newly installed president in Pier Paolo Righi (formerly of Tommy Hilfiger), however, it seems that's all about to change. In addition to the Karl line, Lagerfeld is also launching a new signature line called Karl Lagerfeld Paris -- to be unveiled at the Paris couture shows in January -- that will edge closer to a luxury price range.
According to WWD, the new Karl line will include about 100 pieces, and will debut on Net-a-Porter via an exclusive partnership on January 25. Web and e-commerce seems to be a theme for the line, which will be sold primarily online and marketed on the Web.
In an interview with the daily, Lagerfeld insists he didn't come to the new collection trying to make "affordable" fashion:
Lagerfeld bristled at the term "affordable designer segment."

"I don't work in that direction. I just want not too expensive clothes that people may like and perhaps want to wear," he said. "That was my concept for a long time, but my business partners in the past wanted to be like Chanel or Fendi without putting behind what is needed to be like that.

"It was only when Apax sold Hilfiger that they started to look at Lagerfeld with other eyes and started to invest, etc.," he continued. "Now I am feeling we are ready for the right job -- the way to do things right in a modern, unusual way."

Lagerfeld's latest attempt at more attainable fashion was a recent capsule for Macy's that garnered crowds at the Herald Square flagship, but not necessarily rave reviews among editors. The collection can also be spotted lingering on shelves, while other recent collaborations like Missoni for Target and last year's Lanvin for H&M enjoyed better success. When it comes to downmarket collaborations, Lagerfeld is still likely best known for his 2004 partnership with H&M.