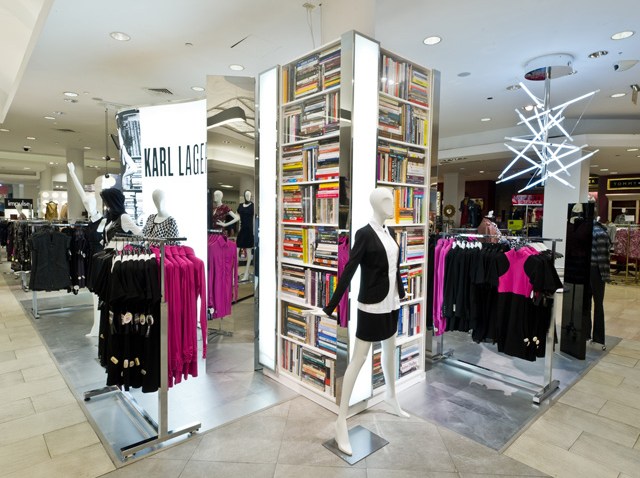 Karl Lagerfeld's collection for Macy's Impulse department bowed at the Herald Street flagship today, offering shoppers a little taste of the Chanel designer's style for between $50-$170.
Though The Feast a small group of early-bird shoppers on the Impulse floor, the conspicuous lack of crowds compared to similar launches for Lanvin for H&M or Madonna's Material Girl line for Macy's seems to signal a waning interest in high-low collaborations. Or, perhaps, Lagerfeld hits a little too high on the continuum: Shoppers in Minneapolis were generally disinterested in the line's debut at a mall fashion show earlier this month, and even in New York, it seems shoppers aren't really biting with as much relish as has been seen in the past. Presumably, Lagerfeld's personal appearance at the store on September 6 will help draw a more fashion-ferocious crowd.
The collection comprises dresses in black-and-white, tweed and shades of soft and hot pink; as well as Lagerfeld-signature over-sized-collar button-down blouses, skirts, trousers, dressy tops, faux leather jackets and vests; wool coats and a graphic T-shirt with Lagerfeld's silhouette on the front.
Check out The Feast's full report here.