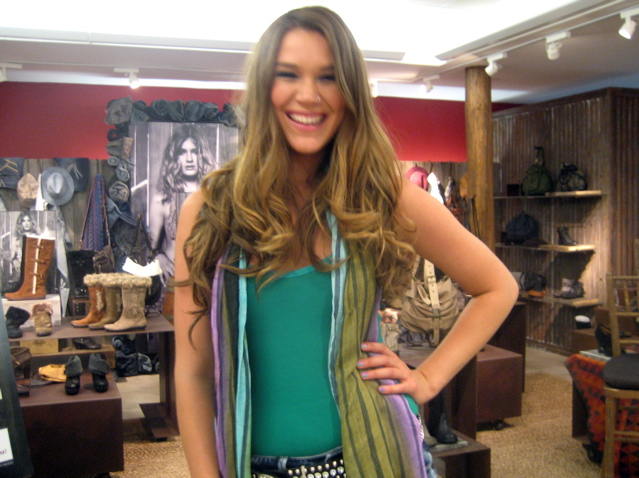 At first, it struck us as odd that a British soul singer would be tapped to design pieces in a collection dubbed "Vintage America." But Nine West was wise to collaborate with Joss Stone, whose efforts with Creative Director, Fred Allard, yielded fabulous hippie-chic results. There may not have been a shoe inscribed with the words "Peace, Love, and Rock n' Roll," but one would not have been out of place among the blue suede oxfords, shearling-lined booties, and washed leather handbags.
Last night at Nine West's midtown showroom, bloggers got a preview of the collection and a chance to gab with Lady Joss, still coiffed from a photo shoot earlier in the day. She had this to say about her design process: "The way I make music, it's very raw...soul music is meant, it's felt, it's very very natural. So I do, yeah, I think [the collection] totally fits with the music."
Styles designed by Joss, which are scheduled to hit stores in August, include a pair of tall, shearling-lined boots and a shorter, sporty lace-up boot. Each pair features a discrete "tattoo" signature, a replica of Joss' own flower tattoos. Guests also got to check out some of the other Vintage America Collection looks (not all the looks in the collection were designed by the singer) including clogs with a D-ring buckle, sporty lace-up wedges, and a crepe sole desert boot.
"I like Nine West because it's reasonable," explains Joss. "I'm not up for spending three thousand dollars on a pair of shoes. It's a waste of money and a waste of life. Don't do it."
Fred Allard shared his tidbits too, joking that he knew "they were in trouble" when, early in the design process, Joss said she was looking for an old sketch she made featuring a little man hugging the high-heel of a shoe made to look like a tree trunk. Alas, this particular pair didn't make the cut, but "Vintage America" retains Joss' quirky boho tendencies while still keeping current and shoppable.