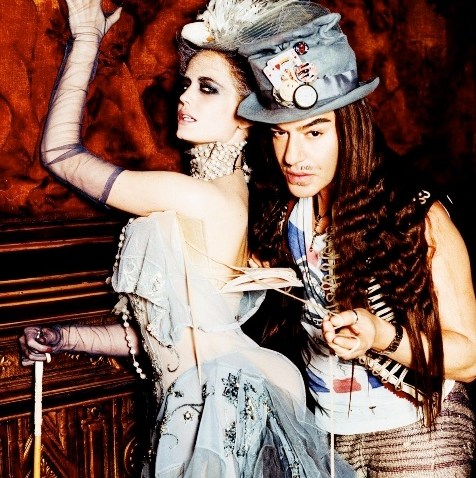 While in town to kick off the reopening of Dior's recently-renovated Madison Avenue boutique (in case anyone was confused by the monstrously-sized purse sitting in place of its storefront these past few months, that's what was going down), the inimitable John Galliano spoke about the experience of shopping, as well as his antiquated knowledge of e-commerce in an interview with WWD. And of course, there were a few sensational stories peppered in. Needless to say, we wish Mr. Galliano came to town more often—and offered to be our personal shopping coach.
On New York:
I love the energy, the fast pace. I find it really inspiring. New York is no shrinking violet, so you can see we have a lot in common. I love all those things and tearing around New York. I've got great friends here. I actually come more often than I let people know. I stay under the radar.
On shopping—advice for a successful day out at a store:
Don't ever go with a girlfriend! Leave her in the car park. Because she's only shopping for herself and her boyfriend — not for you. The last person she's thinking of is you. It's the same thing with boyfriends. Don't go shopping with boyfriends. They're only thinking of themselves, too. Place your trust in the manager, the guy who knows the brand, who will tell you the story about the finish or these little loops and blah, blah, blah, blah. And choose somewhere where the light's not too bright. And enjoy it. Enjoy!
On e-commerce and its lack of a fully-sensory experience:
I didn't even know what e-commerce was until last week. I like the experience. I like to feel the fur, to smell the tweed. I like the service. I love that you go into Hermès wearing your trainers and they still say, 'Oh Mr. Galliano, may we brush your shoes?'
How his 40th birthday last week, organized by Kate Moss, turned out to be a sensational surprise:
I'm like all the old actresses who have an official birthday and an unofficial birthday. This was my unofficial one. I started to organize it with a friend in Paris but it got all out of hand. It was going to turn very corporate, so I said, "Uh-uh-uh." It's just not the birthday you want to start bragging about. The big 4-0. So I said, "OK, we'll move it to London." I said, "I just want to do something quiet. Could we just go under the radar? Maybe to someone's house?" Anyway, Kate and my friend Francesca [Cutler] arranged it, a surprise. We went to the new bar that just opened at the Savoy. It's very Deco, very beautiful. I arrive and there were fantastic creatures there that I hadn't seen for like twenty years, the London posse. And then they introduce the acts. David Bowie had come over to perform for me followed by Diana Ross followed by Tina Turner and then Barbra Streisand... And then the last person who came on was Michael Jackson! They were all impersonators! It was so English and so tawdry! It was fantastic!