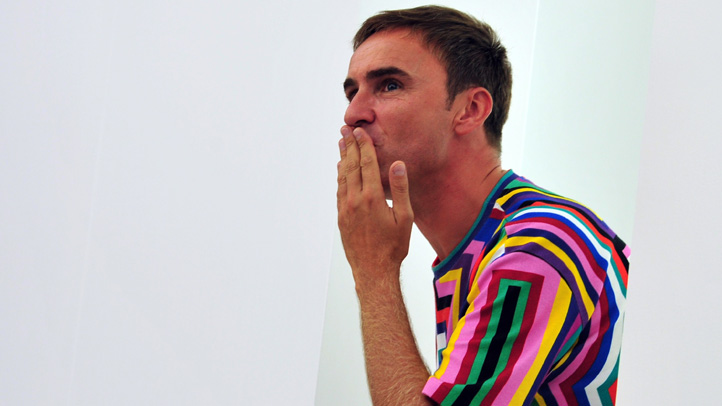 Nearly a year after John Galliano's fall from grace and subsequent dismissal from Dior, a new report indicates that the house is finally (finally) near to a deal with a lesser-known -- but critically favored -- candidate for the top position, Raf Simons.
WWD reports that the house is "closing in on a contract," but that Simons' current contract with Jil Sander may prove tricky in terms of pinning down a start date at Dior. This also isn't the first time that rumors of a Simons move have circulated within the industry: The designer was rumored to be replacing Stefano Pilati at YSL back in September -- a report that turned out to be false.
If this report turns out to be true, the move would be a step in a different direction for the Dior brand, which fluorished under Galliano's more-is-more aesthetic, though arguably was due for a reboot. At face value, Simons is much more of a minimalist -- earning fame for the slim black suits in his menswear label and later his quietly powerful Jil Sander looks -- but the designer has shown to have a talent for creating the kind of powerful silhouettes and smart, chic fashion that Dior would need.
Simons' described his Spring 2012 collection as "the last in my couture trilogy" to Style.com, and the collection referenced clean '50s silhouettes -- an update on the original Dior look, in some ways. In terms of star power, the designer's Spring 2011 collection appeared in more magazines than one can count. Overall, it could be quite a good match, and the critics seem to agree: The New York Times' Cathy Horyn, in particular, suggested Simons as a good candidate in a column back in August. In a post today, she argues that the designer might be a great fit for a new Dior:
If judged solely as a minimalist, Mr. Simons might seem an odd fit for romantic Dior, but his Jil Sander collections are actually proof of a nimble mind that seeks a broader aesthetic expression. And Dior is much more than the crinoline narratives that its former designer, John Galliano, adored. Christian Dior was known for feminine tailoring, and his successor, Yves Saint Laurent, brought a youthful chic to the house that was hardly flamboyant.
Still, it remains to be seen if a Simons contract might actually materialize. At this point, the industry has endured months of conjecture -- with candidates as far-reaching as Marc Jacobs and Alexander Wang -- so we'll choose to remain cautiously optimistic that months of guesswork may be nearing an end.