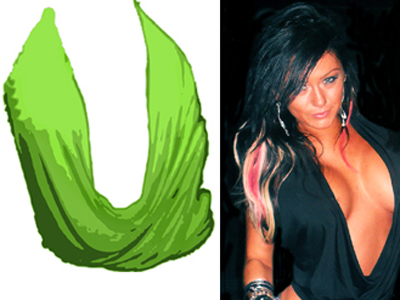 When we first heard JWoww (a.k.a. Jenni Farley) would be starting her own clothing line, we'll admit we were intrigued. Now that she's unveiled some custom perfect-for-clubbing tops on her website, we're starting to get the general idea.
Granted, we would never imply that JWoww's skin-baring designs should make it to the runway, but we're certainly getting a lot of guilty pleasure out of watching her style antics on Jersey Shore and beyond. As, apparently, are others -- so much so that it seems JWoww has started selling some of her "classic" pieces online, in addition to rolling out the details of her impending line (which, apparently, will be "reinventing the term 'Sexy Sophisticated").
Right now, you can buy JWoww's infamous chest-and-midriff-and-back-baring top (it's amazing anything stays covered!) in a slew of colors -- from midnight blue to canary yellow. Unfortunately, the PayPal account linked to the site seems to be down -- could it be that there are too many people looking to buy it? -- but apparently, if you take a picture of yourself wearing one of the shirts, there's a good chance you'll make it onto the site!