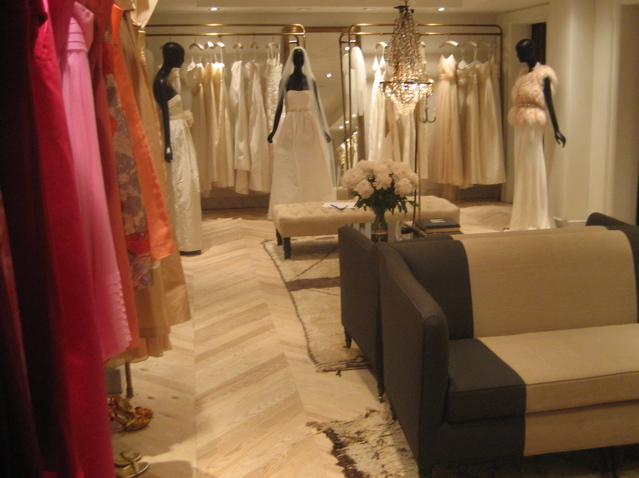 Getting married has never been so hip. Now open at 769 Madison, J.Crew's first-ever Bridal Boutique is a place to kick back and soak up some pre-marital bliss. From the sumptuously decorated ground floor to the luxe appointment salon downstairs, brides-to-be are guaranteed an experience that is, in true J.Crew fashion, comfy and casual without skimping on chic.
At the store's kick-off event last night, Editor of Martha Stewart Weddings, Darcy MIller, bedecked in glistening J.Crew jewels, guided guests through racks of colorful cocktail dresses, sequined gowns and ruffled frocks, pointing out favorites and sifting through the lingerie drawers in a display table. Best of all? You don't have to hear wedding bells to get your shopping kicks at the Bridal Boutique. "We want everyone to feel welcome and comfortable," says head of Wedding Design, Tom Mora. "It doesn't matter if it's a wedding, a party, or a special event."
In addition to the complete range of J Crew bridal gowns, the new shop carries dozens of lingerie styles by Cosabella (including a sequined set in a creamsicle orange that is still calling to us), perfume by Histoires and L'Artisan, insane veils and headpieces by Leah C. Couture and Albertus Swanepoel, Spanx, and Wolford hosiery. By far the most decadent is the jewelry counter, glittering with baubles by Lulu Frost, Fenton-Fallon, Miriam Haskell, and exclusive pieces from the J Crew collection. If there was ever a reason to, as Carrie Bradshaw once said, "marry yourself," this store is definitely it.
Visit the store at 769 Madison at the corner of 66th.