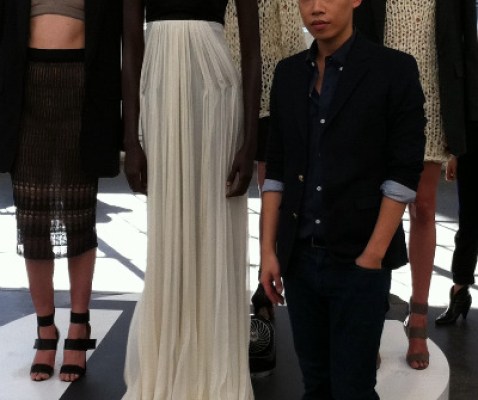 It's hard to look at Jason Wu's designs without considering a certain Mrs. O. Indeed, that's the blessing and the consequence awarded from the First Lady's choice to wear one the young designer's gowns to her husband's Inaugural Ball in early 2009. But should Wu find himself in an artistic struggle between embracing a winning "Obama-ready" look and breaking free from those constraints, then perhaps his second collaborative effort with TSE is all the more fitting.
Despite the brand's signature for cashmere and silk knits, Wu's 12-piece capsule collection underscored the fact that that TSE is capable of more than just sweater sets. Linen wide-leg trousers played to an uptowner's sensibility, while loosely-pleated gray pull-on bottoms will easily find their place in a downtowner's uniform. A defining piece in the lineup was a chunky-knit sweater ingeniously constructed from a stiched silk chiffon "yarn," which again, took any preconceived notions of the heritage brand and turned them on their heads.
Print also made its way into the collection, in the form of a twill sheath dress screenprinted in latex to add a dose of edge to what otherwise might have been an all-too-predictable staple for the [First] lady who lunches.