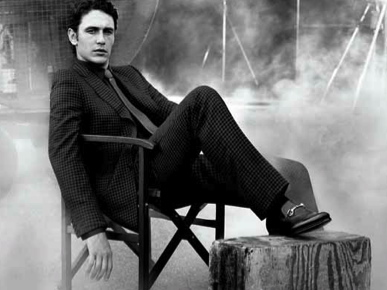 Everyone's favorite multi-tasking actor (not to mention student, writer, producer and director), James Franco, is adding yet another gig to his resume: model.
In a campaign for Gucci's new bespoke tailoring service shot by Nathaniel Goldberg, Franco can be seen lounging on a smokey movie set clad in a beautifully-made black suit. Franco seems to work his chiseled cheekbones and ever-furrowed brow to maximum effect in the series, which is aptly-named "All the World's a Stage."
According to Gucci's creative director, Frida Giannini, Franco was tapped for his "innate ability to fuse classic elegance with contemporary style and interpret formal wear in an individual way."
As for the bespoke service itself, Gucci will begin offering custom-made suits at 11 of its international boutiques starting this month.