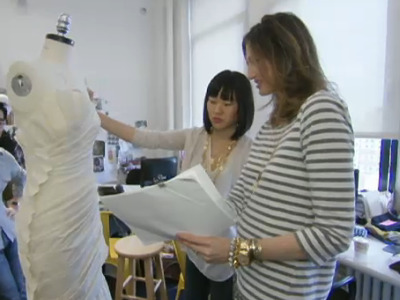 J. Crew creative director Jenna Lyons appeared on today's Oprah show on dream jobs, showing off her spectacular closet, work wardrobe (sequin pants!), and day-to-day tasks at the office.
Rightfully so, Lyons has become an unstoppable force when it comes to popularity -- having revamped the classic J. Crew brand from sleepy prepster basics to hyper-chic creations for everyday and special occasions alike. Not since Domino featured her Brooklyn brownstone two years ago have we gotten such a voyeuristically satisfying glimpse into the world of Jenna Lyons, which includes the world's most insane, color-coded closet.
Lyons made a quick appearance to kick off the show, offering style tips for the masses -- pair opposite patterns and textures, wear statement jewelry, incorporate something tomboy -- and musing on Michelle Obama's penchant for the creative-casual separates, calling her "the gift that keeps on giving" with a smile. Oprah even raved about her super-comfortable J. Crew suede bootie-sandals, undoubtedly heating up J. Crew frenzy to a fever pitch if MObama hadn't already.
Oprah's cameras followed Lyons to the J. Crew offices -- where she wore a striped shirt and sequin pants, God love her -- and Lyons really managed to reaffirm her status as a stylish dame who's thoroughly grounded in reality, making sure she's home in Brooklyn at 6:30 on the nose every night. (Granted, the private car probably helps.)