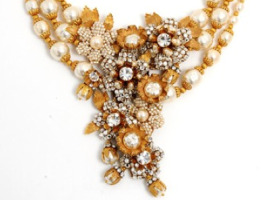 J. Crew and Miriam Haskell have teamed up on a bridal jewelry collection to be sold exclusively at the retailer's Madison Avenue bridal boutique, opening in June.
The venerable jewelry house has created a line of wedding day pieces in a rich and serene cream-white-gold color palette with floral motifs, intricate detailing and contemporary spins on traditional beauties. Haskell brings its hallmark filigree, glass and crystal beading to J. Crew's pared-down, everyday luxe spirit for the vaguely antique-feeling collection, which will retail at a relatively affordable $150-$1,400. Pieces range from classic brooches (that, with J. Crew styling, may be worn on the sash or in the hair), pearls and sweet pendants to slightly intensified unconventional chunky cuffs, chandelier earrings and layered statement necklaces.
WWD published some photos here, showcasing the line that's at once distinctly bridal and truly wear-again versatile.