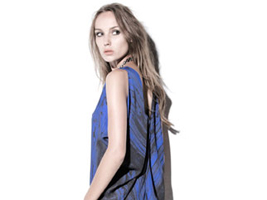 After a note-worthy pop-up last year on Orchard Street, International Playground -- and its roster of hard-to-find labels -- has established a full-time home nearby on Stanton Street.
Racked stopped by and got a glimpse of some of the incredible talents lining the racks, which include pieces like Yarimaki tees, H. Fredriksson silk printed shifts, and Fjallraven backpacks. Of course, the biggest trend on the racks appears to be prints, prints, and more prints -- from tie-dye to pop art graphics. One of the other eye-catching additions to the store is a living wall that separates the store from the showroom in the back --a nice complement the grass in the window.
Some of the more fashion-forward fare might not be for everyone, gorgeous H. Fredriksson dresses are always worth a stop-in, and frankly a pile of Fjallraven backpacks is always a tantalizing prospect when one imagines the summer weekend trips soon to be upon us.